---

---
Top Sellers in Dog and Puppy Supplies
Top Sellers in Cat and Kitten Supplies
Top Sellers in Our Vet-VIPPS® Verified Pet Pharmacy

Introducing Lambert Vet Supply

You might know Lambert Vet Supply for our outstanding customer care and competitive prices on your favorite quality pet products. But did you know that our pharmacy is one of only 20 Vet-VIPPS® Verified internet pharmacies? Or that we have three warehouse locations? Find out more about LVS in our "Introduction to Lambert Vet Supply" video.
Lambert Vet Supply - for all of your pets supplies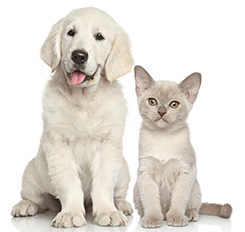 If you're a pet owner looking for top quality vet supplies and pet medications at affordable prices, Lambert Vet Supply has you and your favorite furry friends covered. For 20 years, we've provided pet lovers and professional veterinarians with a wide range of pet and livestock vaccines, plus a comprehensive selection of veterinary pharmaceuticals, both prescription and over-the-counter. We want you to have everything you need to provide the animals in your care with the highest standards of health and well-being, which is why we also provide an in depth library of free veterinary articles and other resources. To help you stay organized, we also provide a useful selection of printable PDF records and charts to help you keep up with your pet's vaccination & health records. Browse through our pet care lines by using the convenient product menu at the top of each page, and if there is anything we can do to make your visit more enjoyable, we always welcome your call at 800-344-6337.