About Pet's Choice Pharmacy
Pet's Choice Pharmacy is a member of the National Board of Pharmacies® (NABP®) and is listed in the .Pharmacy Verified Websites Program. Information is available for your review about the NABP® .Pharmacy Verified Websites Program when you visit the NABP® Web site, safe.pharmacy/buying-safely/#USvets. Pet's Choice Pharmacy is committed to delivering the highest ethical pharmacy practices and excellent pharmaceutical care for the purpose of achieving the best optimal health for your pet.
Our Licensed Pharmacy Team fulfills veterinarian pet prescriptions
Pet Choice Pharmacy has a team of licensed pharmacists and technicians to work with your veterinarian in filling your pet's prescriptions, prescription refills, and prescription transfer requests from other pharmacies. They offer quality products and medications at low prices and are a resource for your pet's drug information, instructions, and possible drug interactions.
---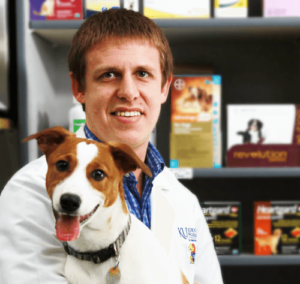 Pet Choice Pharmacist in Charge: Dr. Spencer Brown (PIC)
Combining his love for both pharmacy and animals, Spencer Brown has served as the Director of Pharmacy for Pet's Choice Pharmacy, since its inception in 2011. A native of north central Kansas, Brown continues to reside there with his wife, two children, and his spoiled goldendoodle, Kimber.
---
Veterinarian's Prescription Required
All orders for prescription medications must be accompanied by a veterinarian's original prescription and must meet the criteria listed below under "Pharmacy Laws" in order to be processed. Prescription medications may not be eligible for expedited delivery. In order to process an order with a prescription medication, Pet's Choice Pharmacy must receive a valid prescription directly from the veterinary clinic. In the event you were given a written prescription, it must be mailed directly to Pet's Choice Pharmacy.
Pharmacy Law
A prescription MUST contain the following information PRIOR to being filled at a pharmacy.
Name of owner and species of the animal
Name of drug
Strength of the drug
Dosage form of the drug
Quantity of the drug
Directions for use
Date of issuance
Number of refills authorized
Veterinarian's name with signature
Veterinarian's address and phone number
Veterinarian's state license number
A prescription may be transmitted by facsimilie(FAX) to the pharmacy ONLY by the prescribing veterinarian. The prescription CANNOT be faxed to the pharmacy by the owner of the animal. The owner may obtain the original prescription from the vet and MAIL it in.
Hours of Operation
Monday-Friday:
8 a.m. - 5 p.m. CT
Saturday:
9 a.m. - 12 p.m.
Phone
877-347-7387
FAX
866-787-1177
Faxed prescriptions MUST come directly from the prescribing veterinarian
Address
Pet's Choice Pharmacy
Order #
814 K Street
Belleville, KS 66935

Only send ORIGINAL written prescription to this address. No photocopies will be accepted.
Please Note
Veterinarians retain the right to final decisions regarding prescriptions.
---

Pet's Choice is an accredited online pharmacy, which means we are authorized by the federal government to sell both prescription meds and OTC drugs. Rest assured your pet's prescriptions are being handled by trained professionals who follow the law, value customer satisfaction, and care about the health of your animal companions.